Video Solution
Born in Love with Boundless Vision
Highlights

VOD
One-stop VOD service with tens of thousands of distributed transcoding clusters and over 600 CDN nodes.

CSS
Top-speed distribution in two seconds, millions of concurrent connections, quick publishing and player SDK for you to acquire CSS capability with ease.

MLVB SDK
Integrates LVB's push/pull capabilities to provide users with quality live streaming services in mobile scenarios.

IM
Various communication services such as instant messaging, audio/video communication, PSTN voice communication, text/voice SMS, traffic services and much more.
Dedicated cloud services provide one-stop services
Complete VOD, LVB, MLVB SDK and IM services are provided.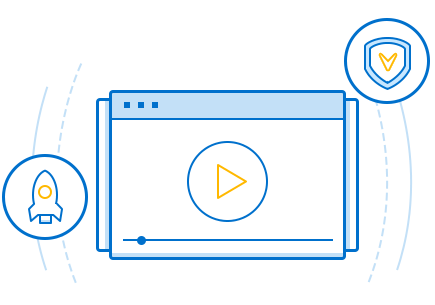 Video on Demand (VOD)
The service gathers Tencent's powerful video processing capabilities to provide one-stop VOD service. We provide customers with fast, reliable and secure video services such as flexible video uploading, quick transcoding, convenient publishing, custom player development, blacklist and whitelist and URL hotlink protection.
• All-Round - One-stop Transmission and Management Platform
• Fast - Advanced Transcoding Cluster and CDN
• Easy - Quick Publishing
Cloud Streaming Services (CSS)
Relying on Tencent's powerful technology platform, the service provides users with professional, stable and fast CSS access and distribution services, and fully satisfies the strict requirements for ultra-low delay and massive concurrent connections. It provides flexible HLS/RTMP access and distribution methods as well as flexible player SDK and statistical features.
• Flexible - Access to All Types of Video Sources
• Expandable - Integration of ILVB and VOD
• Rich - Complete APIs and Statistical Features
Mobile Live Video Broadcasting SDK (MLVB SDK)
Easy to use SDK containing all the fundamental features a live stream client would need. It supports all major video codecs and streaming protocols. It is compatible with standard live streaming services, making it easy for you to develop custom apps and launch end-to-end live streaming services. You can use it with Tencent Cloud's Live Video Broadcast (LVB) and Video on Demand (VOD) services to build a professional one-stop cloud streaming solution.
• Quick Push
• Quick Integration
Instant Messaging (IM)
The service supports various message types such as text, stickers, images, voice, geographic locations, files and custom messages. The number of groups can reach as high as a hundred million with 10,000 members in each group. Together with complete group management features, the service can satisfy various group chat requirements. It also supports self-owned and third-party account login systems (independent mode or hosting mode) and has complete profile relationship chain service system, as well as value-added services such as message sync, message roaming, PSTN voice communication and text/voice SMS service.
• One-Stop - Complete Communication Service
• Multi-Type - Abundant Message Types
• Highly Stable - Up to 99.99% Availability